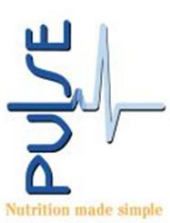 We caught up with the VERY busy CEO Bob Yates and Exec VP Paddy Shea of The Pulse Beverage Company to discuss the amazing national expansion success of Pulse's Cabana 100% Natural Lemonades.
NBT:  The basic market strategy was to get lemonade brand up and going first and follow up with your nutritional beverage brand Pulse.  Now your Cabana 100% Natural Lemonades are the fastest growing natural beverage brand in the United State—what happened?
Bob: We at least had a pretty good feeling that lemonades were going to be hot, and we wanted to get into the market with the product that people would accept, and accept at a higher level. What has been key to our rapid distribution success has been our ability to attract "A" distributors…the likes of: Anheuser-Busch, MillerCoors, Pepsi, Coke, RC, 7-Up, the bigger guys.  The guys that have a lot of trucks and a lot of clout and the ones pay all their bills on time.  Now that's not to say that there aren't other distributors that aren't good, strong independent distributors, but what we are trying to go with, what we would call a class A Distributor. We just signed Malarkey for Chicago who has been in business 60 years and carry over a 100 beers and other products.  They are a fantastic distributor in Chicago, and they are a MillerCoors house and very, very strong.  Pepsi-Cola distributor (Corwin Beverages) in Washington and Oregon, Pepsi-Cola in Minnesota (Bernicks), Anheuser-Bush in places like Alabama, we are just finishing up contracts with Anheuser-Bush in Florida (a grouping of 8 distributors under one umbrella). These are the types of "A" distributors that we are landing and want to keep landing.  We have Canada Dry in Michigan that we just brought on.  We are with Anheuser-Bush people in Tennessee and Kentucky and are just finalizing those contracts. We are bringing on a CoorsMiller distributor for Oklahoma and an Anheuser-Bush distributor for Maine, New Hampshire. These are all "A" distributors.
We currently have 85% "A" distributers and 15% "B" distributors. Our "B" distributors don't carry big brand products. We generally stay away from these distributors because they are generally not financially capable and they don't have enough people or capital to get the job done. The "B" distributors we have chosen have long successful track records and large fleets and people who get the job done. We've been fortunate in that Anheuser-Bush over the last few years has had to be more responsive to the other products they carry due decline in sales in their flagship big brand lines. A 3% decline at the top end is catastrophic and that is what some of the beer manufacturers are going through so distributors are looking for better and diverse beverage products.
NBT:  And you are saying that Anheuser-Bush's problems have somewhat been an opportunity for you.
Bob: Yes, absolutely. If Anheuser-Bush was as strong as it was 10 years ago, we wouldn't have any opportunity with those distributors.  But on the flipside we would have more opportunity with MillerCoors because they weren't as strong 10 years ago. It's a "one door closes" and "one door opens" scenario. The fact of the matter is that if you have a good product, which we do, and people like the taste of it, and they believe in the world going with the all natural concept that we have in our Lemonade, the distributors buy into the prospect of being a long-term product.  I had a distributor call us yesterday, and tell us that he absolutely believes this is the best winner that he has seen in the last five years in this marketplace, and we of course agree with them, but you don't generally get distributors call and tell you that. He then went out and opened up 161 accounts for our product in less than two weeks and received no resistance at all from the buyers. He said that he was kind of amazed and that he himself wasn't much of a salesmen but opened six accounts.
NBT:  I love that!  What is the average initial order when a new distributor is brought in?
Bob: It depends on the territories they are in, and if it's a heavy populated base. They are generally going to bring in a full load (1,700 cases).  Sometimes we split a load between two or more distributors in the same route to get them started.  We will drop off half a load to one house, and another half a load to another house, and that's the starting point.
NBT: I know that chain supermarkets are big for Pulse. When you open up a new account with the grocery store obviously they are going to order more than a convenience store. Can you give us a sense of inventory levels for a supermarket vs a C-Store.
Bob: At the start it takes time to get their chain business going which is what we are currently working on. They bring in product to get various accounts up and running and they will hit what we call "down the street business" which in some markets is not as strong because some markets are more chain driven like Oklahoma and Colorado. We will give them promotion that promotes all five SKUs.  We try to get all five SKUs in the stores as much as possible, but we also have to give them an option to get three SKUs in for the smaller C-store, so they can go out, and get the penetration in there.  While all of that is  taking place we are busy trying to get the chain stores setup for them and follow-up with chain business. That's the time consuming situation because it is a matter of timing more than anything else. We will come back in to their market and work with them to get their chain business up and running. If they are a big "A" distributor they already have key account people that have monthly calls with these big chains, so we try to tie in with them to get those changes aboard.
I think the biggest thing I can say Tobin is when you are building a brand, the first thing you must do is get the distribution built and then continually work on it.
NBT:  You have added 60 distributors—33 states and two international regions—in less than 9 months…pretty amazing.
Bob: We've been told by people like the BevNET Magazine, who track everybody, we are so far ahead at our timeframe right now versus our competitors, it's unbelievable.
Paddy: To give you an example of it, Tobin, is that it took New Leaf Tea six years to get to 800,000 cases. We are going to be past that by the end of this year, fifteen months after we started. I'm not saying that we are six years ahead of them, but I think we are a really aggressive and way ahead of where a typical beverage company would be at this point.
NBT:  So, say that again, it nearly took six years to get to 800,000 cases.
Bob: And Jones Soda was the same.
NBT:  And you guys are still on track to get to a million cases?
Bob:  That's correct. Our orders are increasing every month, and we expect that to continue for two reasons: (1) we are getting great acceptance in the marketplace, so we are getting a lot of reorders; (2) we are continuing to expand our distribution network so that's going to put us in a position of still filling the pipeline such as expanding international accounts and there are a lot of accounts still to open here in the United States.  We want to be fully distributed in 50 states by the end of this year. That doesn't mean we won't have pockets that we can't go back to and at the same time we will be bringing on retail stores and chains and food services.
NBT:  What's the average original order and reorder?
Paddy: The average reorder has been the same as the original order in most cases (a full pallet or 1760 cases). That will change as we collectively build their business. For example, Wisconsin, we had some significant chain listings in that particular market, I use this an example, because of the new chain listing they've reordered. We have three powerhouse distributors in Wisconsin and they've all reordered three times now they are under their third time around.  The orders have increased, I use Kay Beer as an example, Kay Beer is a great distributor, a CoorsMiller house in the Wisconsin market.  We've been able to pick up some C-store chains and we picked up the biggest grocery chain for them. We are promoting with them right now, and their original order started at 10 pallets, then 15 pallets about three weeks after they initially started. Now, they brought in a full load, 22 pallets or 1,760 cases.
NBT: Wisconsin loves Lemonade.  God bless them.  Why is Wisconsin strong here?  What can you apply to other areas that you are doing with?
Paddy: It comes down to this.  We picked up three big houses right off the bat, and we were able to secure them quickly, and we were able to go into their grocery channel quickly in that particular market.  Again it goes back to the timing.  Our reception and our timing were fantastic.  We picked up a chain called Roundy's which has five umbrellas underneath their corporate name, and they put us in their stores, and all those stores which also includes 40 stores in Minnesota, and we have promoted with them. We've put up some displays, and just now we are going to start our promotion program to go along with it, but that particular chain was a huge advantage for us.  There are powerhouses of Wisconsin. In addition to that we picked up some C-store chains and a couple of others like Woodman's. We are constantly getting new chains for those distributors.  We secured another 68 store C-store chain that we are going to be put in as early as May. This all contributes to the volume.
Here is the exciting part about this: we are in Calypso's (arch rival) home state of Wisconsin. That's what's really impressive because we are battling our number one competitor who has been around for seven years, and we are showing this kind of volume with it. I'm just pleased as punch with that (pardon the pun!).
Another example is the Minnesota market.  They've been up and running about 30 days right now.  We just have two more listings.  One of them is called Coborn's in the northern Minnesota market and we just picked Lunds & Byerly's which would start next month. When we go to those markets this is where we get a forward spin.  We are going to put in endcap's (end of aisle displays) in all of those 22 stores for three weeks. This is the kind of spend we had to do when we get into those stores to make sure that we show the volume.  We need to get some numbers in those grocery channels, so that we can expand on the grocery division.  Our biggest growth right now is I want all my guys to get as much grocery business as possible. We have the first Kroger's market here in Colorado where it's very difficult to get into because they want national buying. The national buyer looks for how many stores can you cover, what kind of IRI scan data can you generate and so forth, so we've been lucky enough to pick this particular Kroger's up (under the King Soopers brand) which is the whole state of Colorado, about 140 grocery chain stores in Denver metro and they have another 38 on the western slope of Colorado. We anticipate hitting those stores in the next week. Once we get into our first Kroger's we are going to promote the living hell out of it, putting in display, sampling, everything we can to generate volume so that we are on the radar of the national buyer for Kroger. To indicate the timeline it takes to land this I met with the buyer from King Soopers, a Kroger brand, four months ago, and it's just now happening. When you have a chain that has central buying like Kroger's or Wal-Mart, it's difficult because you are looking for the end road so that you can tell your story.  It used to be that every Kroger's made their own decisions. However, this particular buyer liked our product so much that he went to bat for us, and he is getting us placed into the stores, so there is our first Kroger's success story.
Bob: We secured Canada through Pacific Bottleworks. They have started with Western Canada, which is not a huge population base, and we've gone from one truck a month to two trucks a month of order to this month, three trucks they are ordering. They will be in Whole Foods this month, that's the kind of momentum that you look for in a good distributor and we are just getting ready, we are picking up Whole Foods in our region here. Every Whole Foods region that we pick up makes us stronger because it makes it obvious that we are doing food things for them, and we can pick up more Whole Food regions as we go along. Plus their competitors look at what products they are carrying and how well they are doing with them, such as Sunflower markets and Sprouts.  We get the distributors up and running, and then we do everything that we can.  We come back and assist them in every way that we can to get larger stores so they can get the volume up.
This wraps up part 1 of our exclusive interview. Click here to view part 2 of this exclusive interview with CEO Bob Yates and Exec VP Paddy Shea of The Pulse Beverage Company.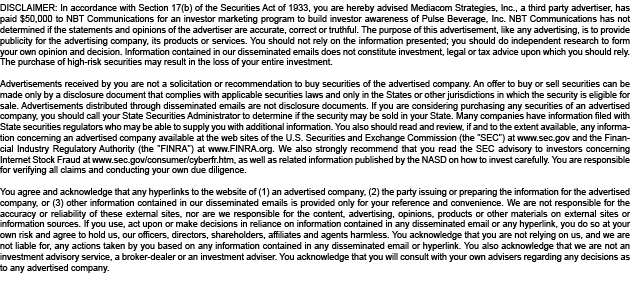 About the Author